Citing his family's concern for his safety, Colorado teenager Weston Imer resigned from his paid internship for Congresswoman Lauren Boebert (R-CO) after just six days. His brief time as a House staffer was cut short by the shocking insurrection attempt on Jan. 6 and the potential of more violence to come.
The precocious 17-year-old, who chaired the 2016 Trump Campaign's Jefferson County effort at the age of twelve, and currently co-directs the political training group America First Republicans, announced his "reluctant" resignation on Facebook yesterday. The full video is available here.
He says he unsuccessfully tried to talk his family out of calling him back to Colorado, before acknowledging that being locked down inside the Capitol during the insurrection was "a little scary."
KDVR-TV in Denver reported on his experience during the insurrection. In the report, he affirms his belief that "Antifa and [Black Lives Matter] BLM" orchestrated the storming of the Capitol in order to "make Trump supporters look bad."
In addition to the violent insurrection on Jan. 6, Imer said his family's concern's included this Sunday's planned events as well as "ongoing protests" in D.C. Flyers promoting an "armed march on D.C. and all fifty state Capitols" circulated online over the past week, prompting the FBI to issue warning about potential militia activity in Washington across the country.
Numerous militia groups and right-wing activists, including some in Colorado, have since disavowed the proposed protest and told members not to attend. Following the violence at the Capitol, however, authorities are taking substantial security precautions in advance of the inauguration.
Prior to working for Boebert, Imer managed his mother's statehouse campaig –an uphill battle in increasingly blue Jefferson County– which Laurel Imer lost to incumbent Democrat Monica Duran.
Laurel Imer, who did not reply to a Facebook message requesting comment, accompanied her son to D.C. to begin his congressional internship, posting this photo of them outside Boebert's office on Jan. 5.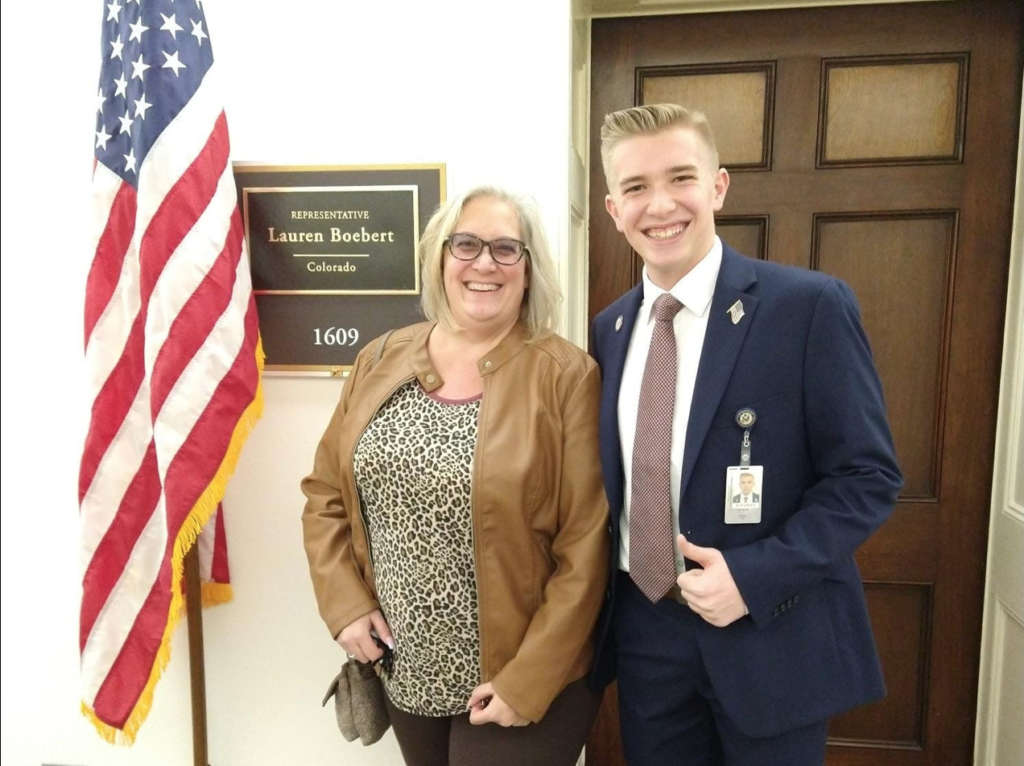 Reached for comment, Imer had nothing but praise for Congresswoman Boebert and said he enjoyed his all-too brief time in D.C. He repeated his conviction that many of the violent rioters will turn out to be Antifa or BLM members. He dismissed current calls from Boebert's Democratic colleagues for her to resign, as well as statements from numerous other Colorado elected officials, that the Congresswoman's own words and tweets may have incited violence.
"She has her right to freedom of speech just like anyone else," said Imer. "I don't think that in any way she was inciting the actions that took place. That wasn't her intent at all. She is a patriot and a Trump supporter at the core like all of us. It's her right to speak her mind and no one should step on that. They silenced the President of the United States. Who are they going to silence next?"
Asked about eventually returning to D.C., Imer said he hopes to someday, but doesn't know when that will be. "Right now my focus will remain on working to elect conservatives in Colorado and continuing the fight to Keep America First."
He continues to serve as communications director for America First Republicans, a new political training organization he and his mother founded along with perennial Congressional candidate and activist Casper Stockham. The group has already launched its inaugural series with a nearly full class meeting every Saturday from January through mid-March.
AFR is also planning to hold a Patriots Rally on Jan. 24 at as-yet to be determined location, presumably in the Denver Metro area. The event is intended to energize the pro-Trump base of the Republican party, hopefully engaging attendees for future political activism in support of the "America First" values and philosophy advocated by President Trump.
An email to Boebert's press office was not returned. This article will be updated with any responses received.