White supremacist and other hate groups are on the rise in Colorado. A investigation by 9News' Jeremy Jojola documents the recent increase of hate-related incidents in the state. It included an interview with a local member of the Proud Boys, which has been designated as a hate group by the Southern Poverty Law Center, largely due to its anti-immigrant and anti-Muslim sentiments.
The Proud Boys have been entwined with Republicans and particularly the Trump campaign ever since the group's founding in fall of 2016.
This has been especially true in Colorado where over the past three years, a number of Colorado Republican candidates and elected officials have appeared at local events featuring the Proud Boys. County GOP groups are also sharing Islamophobic messages commonly expressed by the Proud Boys
Current candidates include Grady Nouis, who, following his 2018 statehouse loss to Rep. Tracy Kraft-Tharp (D-Arvada), moved to Weld County and declared his intention to run for term-limited Rep. Stephen Humphrey's House District 48 seat.
Nouis' 2018 campaign featured his attendance and support of several far-right rallies, leading to The Denver Post describing him as having been "in the orbit of groups and events associated with far-right views."
Nouis went as far as to defend himself as a "white nationalist" in a live video interview with Louie Huey on the Major League Liberty podcast.
One of the "far-right rallies" attended by the Proud Boys in 2018 also featured an employee of Better Colorado Now, the Super PAC supporting former Colorado Treasurer Walker Stapleton's campaign for governor. He believed the rally would be a good event at which to hire people to knock on doors for his group and "help elect Republicans."
That same Sept. 2018 rally was also attended by then-representative Alex Winkler, who subsequently lost his seat to Rep. Kyle Mullica (D-Northglenn). Winkler later told the Colorado Times Recorder he didn't agree with the messaging or communication style used by some people at the rally.
Earlier this summer Proud Boy Louie Huey, who also hosts the Major League Liberty podcast, attended the Centennial Institute's Western Conservative Summit, one of the nation's most influential conservative gatherings. Speakers included U.S. Sen. Cory Gardner (R-CO), Donald Trump Jr., and anti-Muslim extremist David Horowitz. Colorado Governor Jared Polis also spoke at the event, the only main stage speaker to be audibly booed. At the event Huey met with one of Colorado's most prominent far-right anti-immigrant extremist, Michelle Malkin.
Two days prior to Huey tweeting this picture and Malkin praising him as a "friend and compatriot," conservative group Young American Foundation (YAF) dropped Malkin as a regular speaker because of her support of various white nationalists and racists, including the Proud Boys. As reported by Talking Point Memo:
"Immigration is a vital issue that deserves robust debate," YAF said in a statement posted to Twitter. "But there is no room in mainstream conservatism or at YAF for holocaust deniers, white nationalists, street brawlers, or racists."

…the statement appeared to address recent comments of Malkin's in a YAF-organized speech at UCLA on Thursday.

"They want me to disavow Nick Fuentes and VDARE and Peter Brimelow and Faith Goldy and Gavin McInnes and the Proud Boys and Steve King and Laura Loomer and on and on," Malkin said, naming a laundry list of right-wing provocateurs, some of whom espouse white nationalism.
In response to Jojola's interview, Huey posted his own video rebuttal, splicing portions of the interview with his objections. His first response was to the claim that the Proud Boys are anti-woman. Huey's response:
"Anti-woman? You mean the group of men that want men to be men and women to be women and are getting married and successfully doing so and popping out babies? Oh yeah, we're really anti-woman."
The overt links between Republicans and the Proud Boys aren't just limited to Colorado. An October 2018 report by the Daily Beast, titled "Republicans Are Adopting the Proud Boys," documented numerous instances of GOP members embracing the hate group.
With the 2020 presidential election looming, national journalists are raising questions of their growing influence, particularly in conservative circles and so-called "patriot groups" supporting President Trump.
Tammy Klein, a longtime GOP operative and Vice Chair of the Weld County Republican Women, shared this photo of the Proud Boys at the 2018 Boulder County Fair. The previous summer a Proud Boy rally on Boulder's Pearl Street Mall featured a man shouting pro-Nazi and anti-Semitic slogans. The event resulted in several arrests and the Proud Boys disavowed the man they described as a neo-Nazi.
Klein served as the filing agent for multiple recall efforts this past year, including the attempt to remove Senate President Leroy Garcia (D-Pueblo). She told the Pueblo Chieftain it was official work:
"Tammy Klein insisted her two committees are doing the official work of larger groups, most likely Republicans, who want Garcia and Buentello ousted.
The Garcia recall was coordinated by organizers who posted racist, Islamophobic, and anti-Semitic posts on their personal Facebook pages.
Local Colorado Republican parties are also sharing hateful social media memes, particularly those with anti-Muslim and anti-immigrant messages.
The Douglas County GOP has shared numerous Islamophobic posts on its Facebook page, including this one from September. Reached for comment about a more recent anti-Muslim meme shared last week, DougCo Vice Chair David DiCarlo said he'd consider removing it, but the post remains on the page. The Chaffee County Republican party, which shared a particularly offensive meme last week, did not respond to a request for comment.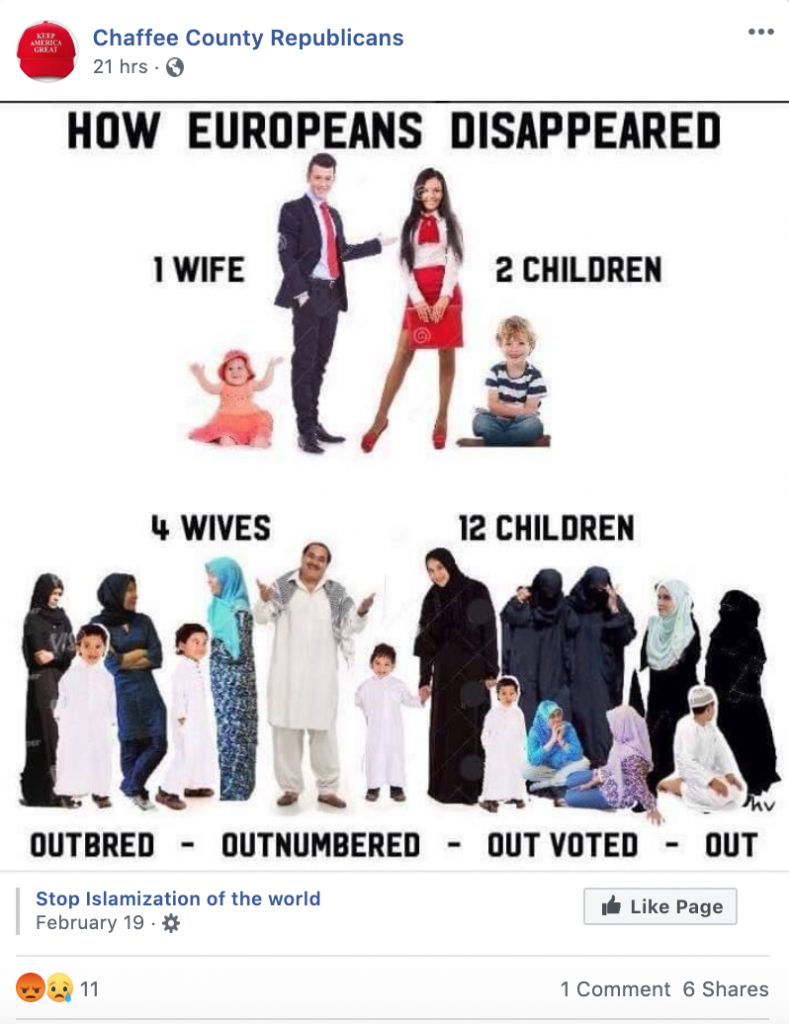 The Colorado Republican Party did not return an email request for comment. The story will be updated with any response.