In the past month, anti-Muslim sentiments have been making waves on the Douglas and Chaffee County Republicans' Facebook pages.
An official of the Douglas County GOP recently denounced an Islamophobic post made by the group's official Facebook page, but the post remains.
The Douglas County Republicans' Facebook page posted an anti-Muslim meme November 5 that criticized American schools for not encouraging standing for the pledge, but accepting Muslim worship practices.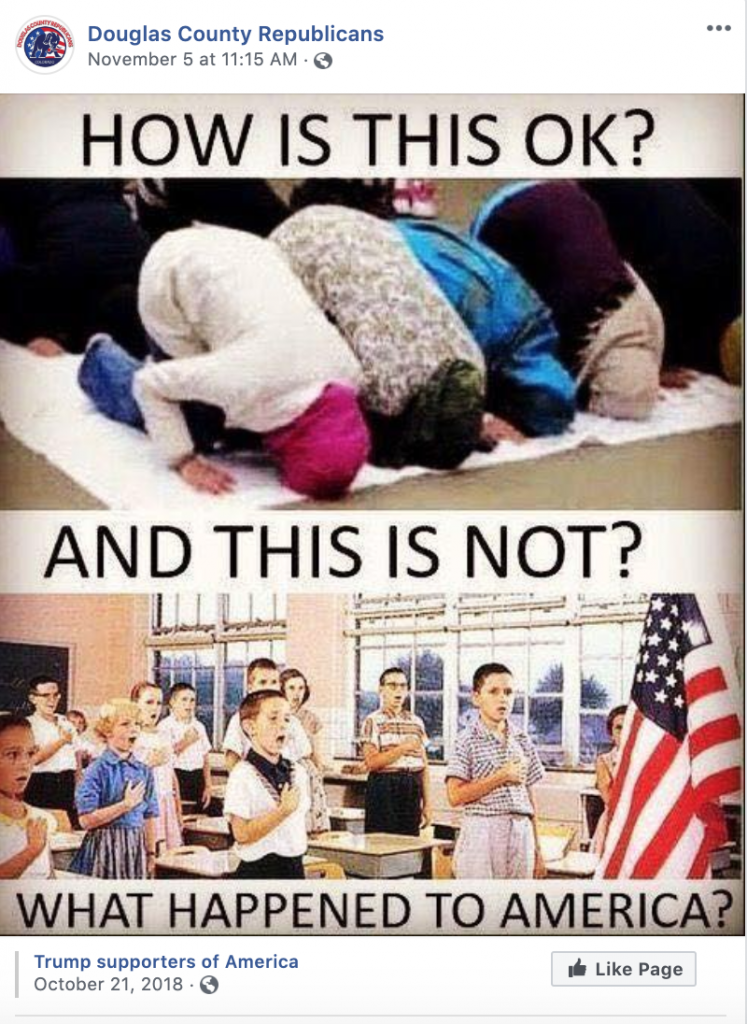 David DiCarlo, First Vice Chair of the Douglas County Republicans, initially expressed remorse when told that his organization had posted an Islamophobic meme.
"I have no problem with Muslims, I have friends that are Muslim[…] I do have a problem when one group is allowed to exercise their religious freedom, and another group isn't," DiCarlo told Colorado Times Recorder. "That should be something everybody has a problem with, you know?"
"In my mind, everybody should be allowed to worship. I don't even have a problem with people praying at school as long as you don't make it mandatory," DiCarlo continued. "Because not everybody believes, or believes the same thing. If people want opportunity, it's the whole 'inch or a mile' thing, right?"
"I just think people should have honest, open, equal access to worship as they choose, or not, to say the pledge–and certainly have the right not to say the pledge, you know–it's the First Amendment; they don't want to say it, nobody should be beating up on them for it," DiCarlo said. "Personal opinion, personal belief. Thank God we can all have it: freedom of the press, freedom of expression, right?"
DiCarlo even suggested that he might have someone take the meme off the page. "From what you're telling me, it sounds like it's just kind of a goofy, confusing meme. I'll have to go look at it later, maybe I'm gonna tell someone we should be taking it down–I don't know until I see it."
When the Colorado Times Recorder followed up with DiCarlo last Wednesday, he alleged that he had not been able to look at the post, and that no one would be able to get into the Facebook page until the next day, due to being locked out for "violating [Facebook] community standards."
The Douglas County Republicans page was still posting content on November 20 in the morning and in the evening.
DiCarlo did not respond to an e-mail with a screenshot of the post asking if he believed the post should be removed. As of November 25, the post remains on the Facebook page with almost 600 "reactions" and almost 200 shares.
This isn't the first time that the Douglas County GOP has shared anti-Muslim sentiments via social media. In September, the same Facebook page posted a meme tying Muslim members of Congress to the 9/11 attacks.
Last Tuesday, the Chaffee County Republicans' Facebook page jumped on the bandwagon by posting their own anti-Muslim meme, which implied that Muslims are taking over the world by "outbreeding" white Europeans.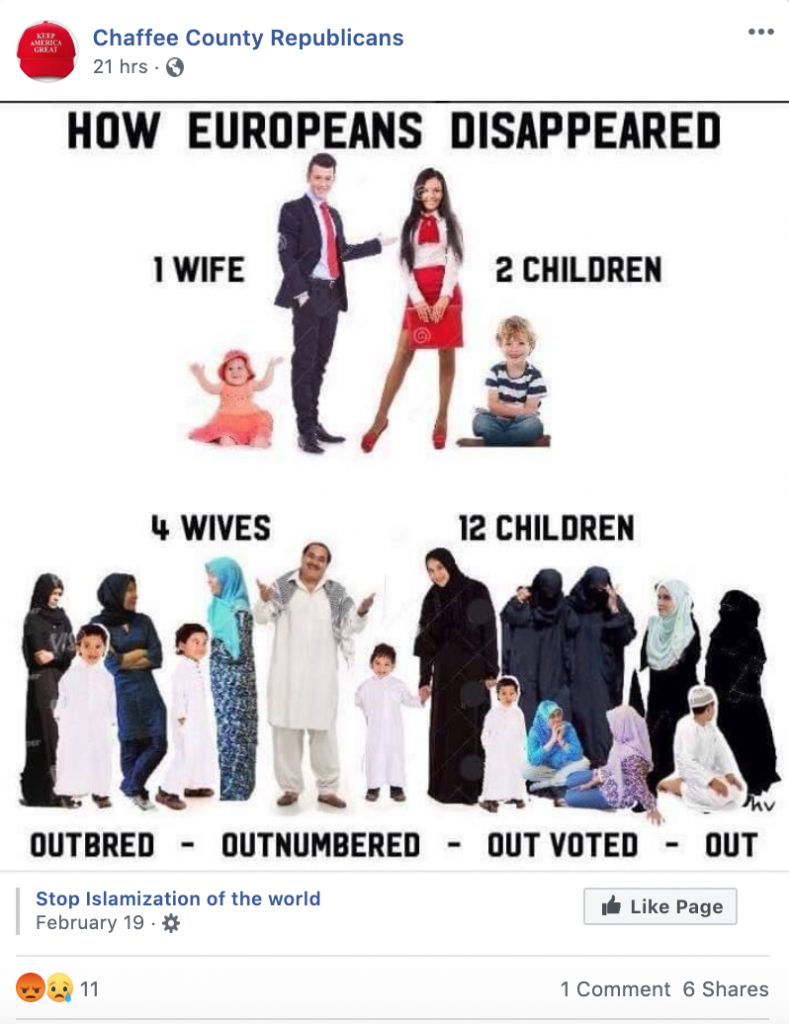 The Chaffee County Republicans are similarly guilty of a history of anti-Muslim memes. In December of 2017, the page posted a false quote attributed to U.S. Sen. Elizabeth Warren (D-MA) stating that "women need to be raped by Muslims to prove our tolerance." This quote was debunked by Snopes.
Islamophobia hasn't just made its mark online this month–on November 14, a man was arrested after waving what turned out to be an airsoft gun at people outside of a Denver mosque, making anti-Muslim threats.
Along the same vein, a Muslim woman recently made headlines when her entrance to the Pepsi Center on November 5 to watch her daughter perform the National Anthem was denied because she refused to take her hijab off in public.
Iman Jodeh, Community Advocate and Liaison at the Interfaith Alliance of Colorado, and spokeswoman for the Colorado Muslim Society, explained why the DougCo post may not provide all of the necessary context around the issue of in-school worship and reciting the pledge.
"The pledge left many people uncomfortable because it used the word God. For those that do not believe in God, or that it references an Abrahamic God, one that many view different than their own interpretation of what God is, made it seem unfair to make ALL students stand and give the pledge every morning," said Jodeh.

"Muslim students, or any other student, who chooses to worship privately in school has the right to do so because they are not making everyone in school worship with them.

The clear separation of enforcing the masses to say something that may not apply to their religious beliefs, versus, praying with those who do believe the same thing in a private room, are two different things."
Rev. Amanda Henderson, Executive Director of the Interfaith Alliance, told Colorado Times Recorder that she "calls on the Douglas and Chaffee County Republicans to take these hateful posts down."
"The Interfaith Alliance of Colorado believes that all people have the right to practice the religion of their choice since that's the foundation of what it means to be American. As a person of faith, it pains me to see religious bias and hatred – especially when it comes from people who are viewed as leaders in our community," said Henderson. "There is too much fear, division, hate and violence, which is clear to see in last week's FBI report showing a 16 percent increase in hate crimes last year in Colorado. I call on the Douglas and Chaffee County Republicans to take these hateful posts down and concentrate on building community rather than tearing it apart."