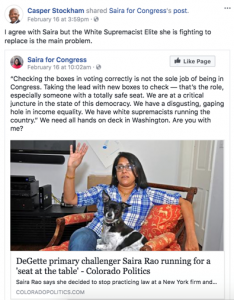 Denver congressional candidate Casper Stockham is accusing his Democratic opponent, U.S. Rep Diana DeGette (D-CO), of being a "white supremacist."
Asked about the comment, which he made on Facebook last week, Stockham told the Colorado Times Recorder he thinks DeGette "wants to help black people because they are lesser than her."
"She believes the white race is higher than the black race," Stockham told me, explaing that "black people don't need government assistance."

[DeGette] doesn't want equal status," he continued. "She wants to help them because she thinks they are lesser than her."
Asked if he has evidence to back up the accusation, Stockham, whose extreme Facebook posts have drawn attention before, said:

"It's my opinion, based upon how I see her operate. It's just like people calling Trump a racist. I haven't seen any evidence of it. But that's their opinion. And if it's the majority of the people's opinion, there is nothing I can do about it. But it is absolutely my opinion that she feels the white race is higher than the black race."
Stockham, who is African American, made the Facebook comment in response to a post by DeGette's Democratic primary opponent Saira Rao, who called told ColoradoPolitics.com reporter Ernest Luning that "we have white supremacists running the country."
Stockham, who lost to DeGette in 2016 and is the likely GOP nominee for this year, responded to Rao on Facebook with, "I agree with Saira but the White Supremacist Elite she is fighting to replace is the real problem."
Asked to explain her comment about "white sumpremacists running the country," Rao spokeswoman JoyAnn Ruscha said via email:
"In 2017, we saw candidates of color, LGBTQ individuals, millennials, immigrants, and people from all walks of life beat the odds and swipe seats from Republicans. If we want to take our government back from Donald Trump, we need to build a diverse and united party that looks more like the America we love."

This is not the first time in our history that white supremacists have run our country – but we can make it the last.
DeGette's campaign declined comment.