A Colorado state senator shared a meme of an old fake news story claiming that President Obama replaced American flags in the White House with a "Muslim prayer curtain," presumably as a nod to his "true" religion.
State Senator Randy Baumgardner (R-Hot Sulphur Springs) posted a collage featuring photos of Presidents Obama, Bush, Clinton, George H. W. Bush and Reagan. The four Presidents before Obama are each pictured speaking in front of an American flag. The image of President Obama is from a 2010 press conference in the East Room, with only the gold silk curtains visible. According to Snopes, the curtains have been part of the room's decor since the 1960s.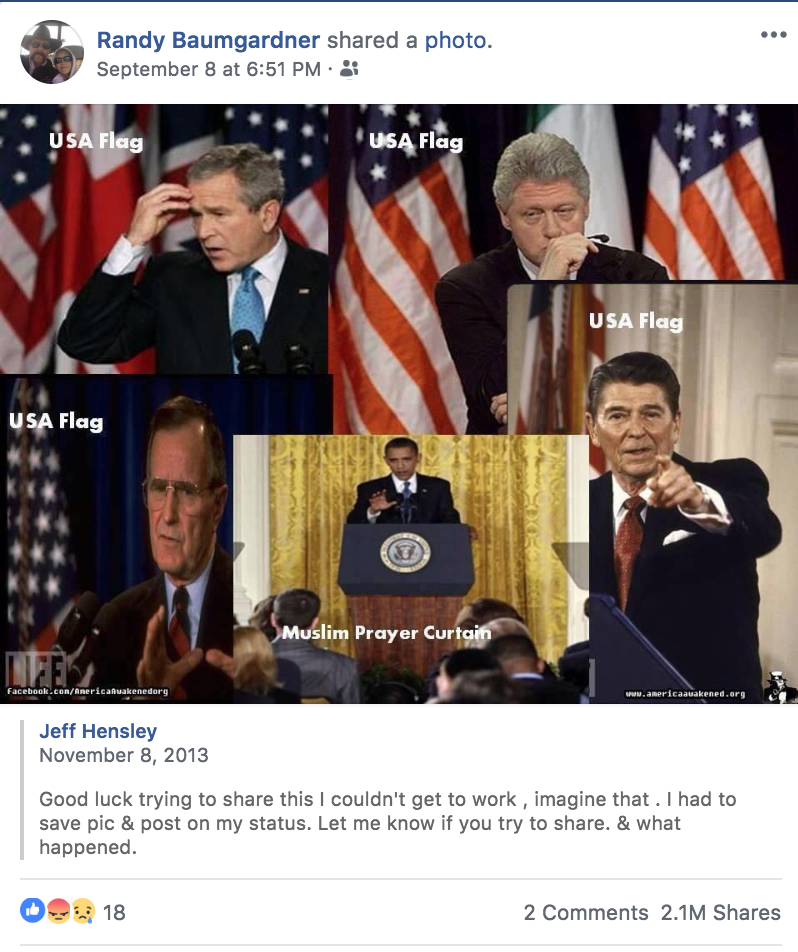 This meme first appeared in 2010 and has since continued to circulate on Facebook, especially over the last three years. This particular version has been shared over two million times. The commentary on the post frames it as a censorship challenge, asking other to attempt to share the image and see if Facebook allows it. This plays into the currently popular conservative claim that Twitter and Facebook are actively engaged in suppressing conservative posts.
Here in Colorado, a handful of conservatives, including candidates, online media personalities and at least one elected official are hosting a rally in support of this unsubstantiated belief. The "Rally To Protest Internet Censorship Of Conservatives" is taking place on the West steps of the state capitol at 1:00pm. Hosted by alt-right social media outlet Major League Liberty, the lineup includes Rep. Alexander "Skinny" Winkler (R-Northglenn) and Mark Barrington, congressional candidate for CD2. Statehouse candidates Gardy Nouis (HD29) and Mary Fabian (HD18) have both marked themselves on Facebook as "interested" in the event, as has Jefferson County Republican Chair Joe Webb.
This is not the first time Sen. Baumgardner has helped promote fake news on Facebook. Last November he liked a post from former Sen. Laura Woods, which falsely claimed that the Texas church shooter was a member of Antifa. Last February he shared a video in support of President Trump's Muslim ban. It purported to show former Presidents Carter and Clinton calling for similar policies, but had been edited to take the Democratic presidents' statements out of context.