Colorado's newest state lawmaker, Judy Reyher, has a history of sharing her white supremacist views on Facebook, including doubts about former President Barack Obama's birthplace.
Reyher, a Republican, was appointed to replace former state Rep. Clarice Navarro earlier this week after Navarro stepped down to take a position with the Trump Administration. Reyher formerly served as chair of the Otero County Republican Party.
Here are some of her most egregious Facebook posts:
Reyher once implied that black people are "pussies looking for free shit".
In this post, she calls black people "hatred filled beings."
She has also criticized Muslims, implying in this post that they come to America to keep Americans from enjoying pork, beer, dogs, bikinis, Jesus, and freedom of speech.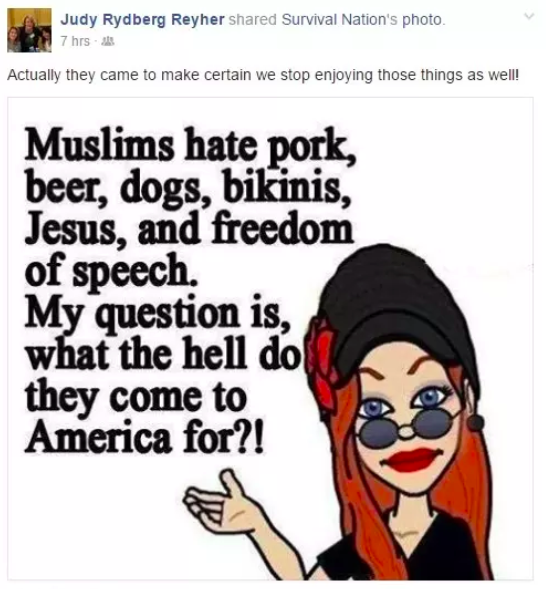 Reyher also shared this extremely misleading article that claimed Colorado students were being forced to abide by Shariah Law.
Here, she suggests Obama isn't an American.
Reyher is highly critical of Obama, even going so far as to claim he's responsible for racism in America.
She once said she wants to "bitch slap" those who voted for him.
Here's how Reyher responded to August's white supremacist rally in Charlottesville.
She also said she's "proud" to wear the labels she says liberals prescribe to her, including racist and sexist.
Many of these posts were originally highlighted by the Colorado Times Recorder last year in a Buzzfeed article, which features more of Reyher's Facebook activity from her time as GOP chair in Otero County.