Denver radio host Chuck Bonniwell began a segment of his afternoon radio show Tuesday by lamenting the "never-ending impeachment of Donald Trump," and then saying, "You know, you wish for a nice school shooting to interrupt the monopoly."
"No, don't even say that! Don't call us! Chuck didn't say that," said Julie Hayden, who's Bonniwell's co-host on the conservative KNUS 710-AM show.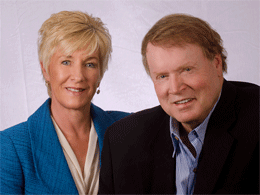 I called anyway, and Hayden told me Chuck regretted the comment.
"It was something he immediately wished he hadn't said," Hayden told me.
Bonniwell hasn't apologized yet, but immediately after Hayden's on-air response to his comment, he told his audience that he meant shootings in "which no one would be hurt."
UPDATE: KNUS Fires Bonniwell for his "You-Wish-for-a-Nice-School-Shooting" Comment; And He Issues a Statement that Falls Short of An Apology
Bonniwell's comment came as KNUS is facing accusations that a staffer is a Nazi. KNUS Management is reportedly conducting an internal investigation, and the producer has denied posting pro-Nazi comments on social media. The results have not been announced.

Bonniwell, who's a steadfast Trump supporter and publishes the Cherry Creek/Glendale Chronicle, has a long track record of comments that draw media scrutiny.
Last year, during Jared Polis' successful race to become Colorado's governor, Bonniwell said Polis has the support of the "gay mafia."
During the same election, he called state Sen. Faith Winter of Westminster, "an overweight, unpleasant, vicious, amoral human being."
A few years ago, Bonniwell told his listeners that Guardian reporter Ben Jacobs, who was body slammed by Rep. Greg Gianforte (R-MT), was a "little jerk" and a "metrosexual."
And, since the holiday season is upon us, you might want to know that Bonniwell once said Obama "doesn't like Christmas."
Here's the full audio segment from Tuesday's Chuck & Julie show, before @710KNUS spliced host Bonniwell's "you-wish-for-a-nice-school-shooting" comment from its online recording of the show. (at 1 min 30 seconds)