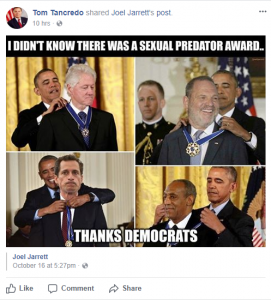 Former U.S. Rep. Tom Tancredo, the Colorado Republican who's considering another run for governor, has cleansed his Facebook page of the fake news that Obama honored Harvey Weinstein, among other Democrats accused of sexual assault.
The item depicts Obama giving medals to Clinton, Harvey Weinstein, Anthony Weiner, and Bill Cosby.
A headline across the top reads, "I DIDN'T KNOW THERE WAS A SEXUAL PREDATOR AWARD. THANKS DEMOCRATS."
Tancredo, who ran for president in 2008, told me he had doubts about the Facebook meme before he posted it:
"When I looked at it, I thought, 'What would Obama be giving Weiner an award for? So I should have paid more attention to that one," Tancredo told me. "It's well done, but these days, who can tell?"
The falsehood no longer appears on Tanc's page.
Tancredo told me he once removed an item from his Facebook page after hearing Rush Limbaugh state it was false. But he isn't inclined to believe Snopes or the New York Times.