Former Mesa County GOP Second Vice-Chair Mark McCallister has submitted signatures to be a candidate in the April 6 Grand Junction City Council race.
This may not seem super newsworthy at first glance, but it is for us at the Colorado Times Recorder, where exposing racism and bigotry is a priority.
McCallister has appeared on our news site several times after racist content was found on his Facebook page.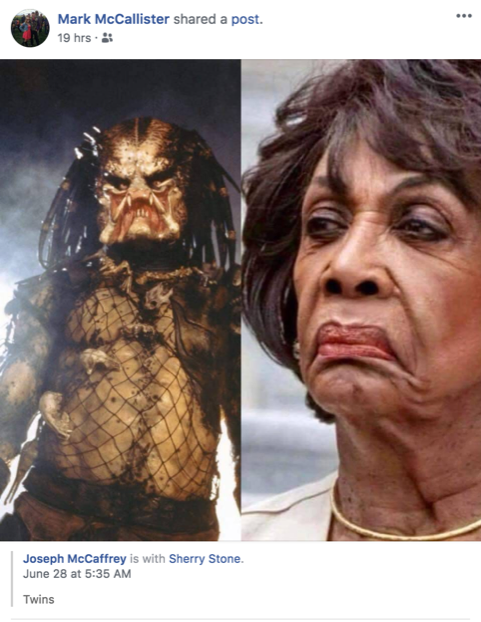 In 2018, McCallister posted a meme comparing Congresswoman Maxine Waters (D-CA) to Arnold Schwarzenneger's Predator.
Shortly after, he posted an Islamophobic quote that was fabricated and falsely attributed to a former Oxford professor of Islamic studies.
Then, last January, a meme depicting Trump placing a noose around the neck of former President Barack Obama appeared on McCallister's Facebook page.
But McCallister says he didn't post it there.
"One of the posts, I didn't post," McCallister claimed.
"I was shown one with Trump over Obama with a noose or something over him, being treasonous," McCallister said. "I did not do that. I will deny that to the world's end."
Last year, when the Colorado Times Recorder published a story about the Obama-Trump meme appearing on McCallister's Facebook page, McCallister didn't respond to a request for comment.
McCallister didn't ask the Colorado Times Recorder to correct our article after it was posted last year, even though he acknowledges now that he heard about it.
McCallister did not respond to a follow-up voicemail and email asking him how the post got on his page if he didn't post it, and why he didn't attempt to clarify sooner that he had not posted the meme.
The meme appeared on the same Facebook page of "Mark McCallister," which contained the other two memes that McCallister takes responsibility for.
As for the Waters/Predator meme, that wasn't supposed to be an attack on Waters' appearance, McCallister told me, but an attack on her "being a monster."
"[Waters] was attacking the Trump campaign and saying, 'Throw water on them, spit on them, throw them out of restaurants,' you know, anyone who was a Trump supporter," McCallister said. "And I just think that's a real lack of character. You know, and I never commented on the post, I just shared it. Because I just thought what she was doing was wrong. And it's a thing of character, not color."
In fact, said McCallister, our labeling of that Facebook post as "racist" was a "misdirection."
"…I would say for someone to say that that was a racist post is wrong, that they didn't do their research. Because a gentleman, [Kevin] Peter Hall, was the man who actually played the predator in that movie, and he's a black man," said McCallister. "So how are you gonna [claim] that I'm a racist for posting that she was being a monster for her statements? That's just a misdirection by the Colorado Times [Recorder], in my opinion."
In June 2018, Waters did encourage supporters at a rally to deny service to Trump cabinet members, and to confront them in public in crowds whenever possible to get them to leave restaurants, department stores, and gas stations, in response to former President Trump's executive order which separated children from their parents at the Mexican border.
Waters did not, however, extend this threat to Trump supporters. She did say in September of 2018, "I did not threaten [Trump] constituents and supporters. I do that all the time, but I didn't do that that time."
There is no evidence that she ever told her supporters to "throw water" or "spit" on anyone.
McCallister doesn't believe his Facebook posts will affect chances of winning his upcoming election–and he doesn't think they'll tarnish his image in any way.
"I put no weight on those things, I don't," said McCallister.
McCallister says he's running for city council because he sees the current city council as being "out of touch."
"I'm in touch with the public, you know. I really feel like the current council isn't in touch with the direction or the temperature of what the public's needs are," McCallister said. "They're building the business park over here right now, you know, and they're looking at dispensaries and they're looking at other issues, but really–and not that I oppose those things–but I don't really think their focus is where the public's need is."
"My drive… is to help protect small business and then look at some of the health issues facing our communities, said McCallister. "…I'm concerned about things like suicide, you know people are losing their jobs, their homes, domestic violence, you know, all the things that come with economic shutdown."
His experience as former second vice chair of the Mesa County GOP, says, McCallister, will aid him in staying in touch with the citizens of Grand Junction, thanks to the connections he made while he was in the position.
"I've had a lot of people come to me with our relationships in the past with me and on the board and stuff; I have those connections to get those things done for the community," said McCallister. "So I feel like I'm the right guy for it."
Colorado state Rep. Matthew Soper (R-Delta) is one politician showing his support for McCallister. McCallister publicly announced his candidacy for city council last Wednesday, and Soper commented, "You'll make an excellent city council member!" on Facebook.
Soper did not respond to an email requesting comment on McCallister and his social media posts.
However, when the Trump/Obama meme appeared on McCallister's Facebook page last year, Soper told the Colorado Times Recorder that he wanted "politicos and the media alike to tone down fanning the flames of this [political] divide…"
Kevin McCarney, current Chair of the Mesa County GOP, told the Colorado Times Recorder that he supports McCallister's bid for city council, and that he believes he is a better option than those who currently sit on the council.
McCarney has known McCallister for "seven or eight years" and said that he has never been intentionally racist, even though he is familiar with McCallister's Facebook posts.
"I'll be frank, I think ["racist"] is a buzzword that's intentionally used to knock someone down from the Republican side," said McCarney, who also said that people who label posts like McCallister's as racist need to learn history.