LeBron James took a shot at the media Saturday, in retweeting a video of a peaceful protest posted on Twitter by ace Colorado Times Recorder reporter Madeleine Schmidt.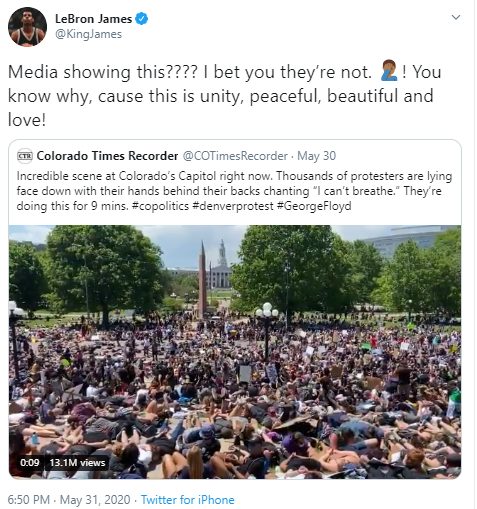 "Media showing this???? I bet you they're not," wrote James in his Twitter post afer watching Schmidt's video. "You know why, cause this is unity, peaceful, beautiful and love!"
Some commenters on Twitter pointed out that the Colorado Times Recorder is part of the media too, even if we were glorifying a peaceful protest instead of looting, fires, graffiti, destruction, tear gas, and/or windows being smashed.
But we're small, and James was just saying that peaceful protests aren't covered enough. He may have been referring to the national media. See screenshots of MSNBC and CNN's homepages from Sunday evening:
It's easy to complain about excessive mayhem and fluff in the news.
It's harder to know how to solve the problem, part of which is caused by peaceful activists who are important but often boring.
But James at least took a stand and tweeted about the focus on the chaos. (He tweeted our video and another.)
And it worked.
An NBC affiliate in Los Angeles broadcasted the CTR video as Lebron requested.
"We had so many responses from viewers online and into our newsroom about a piece of video," said NBC Los Angeles reporter Robert Kovacik on air.

"We've got the video now for you about what happened in Denver today," said Kovacik. "Take a look. Those are thousands of people lying on their stomachs chanting, 'I can't breathe.' And they did that for nine minutes, the time that was clocked by investigators when George Floyd had a knee against his neck. And that was this afternoon in Denver.

"King James, we did play it because you asked us to, and we appreciate you drawing our attention to it."
Another journalist from a TV station in Atlanta told James on his Twitter feed that they'd aired the video too.
Others seemed frustrated by James' media critique.
Commenting on James' Twitter feed, Denver 7 weekend anchor Jaclyn Allen seemed irritated at the King's implication that journalists weren't covering the peaceful protests.
"Yep, @KingJames, we showed it," wrote Allen on James' timeline, not specifying if this was done when activists repeated the action the following day after James had drawn attention to it. "Live. For several minutes while it was happening. And over and over again after that."
Allen didn't return my call to talk about this, but as our video climbs past 12 13 million views, it looks like there's a market for hope and peaceful protest on TV, and every other media platform on the planet.