As the months continue to stack up since he's held a town-hall meeting, U.S. Sen. Cory Gardner continued to make time for interviews with conservative radio hosts this week, speaking at length with KNUS' Steffan Tubbs and KHOW's Ross Kaminsky.
But he again didn't talk with the conservative radio hosts who criticize him the most, namely KNUS' Chuck Bonniwell, Peter Boyles, Julie Hayden, and Randy Corporon.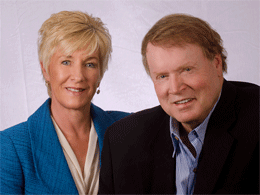 In an unusual move, Tubbs actually played an audio clip from his KNUS colleague Corporon, in which Corporon asked why Gardner goes on the "radio with [Tubbs] and Caplis and Ross Kaminsky, and stays away from me or Peter or Chuck and Julie or anybody else who might disagree with some of the things that he does."
"Look, I know Randy," replied Gardner, saying he hoped to work something out with Corporon. "I don't know the other folks that you're talking about."
And it looks like Gardner won't be getting to know Hayden or Bonniwell anytime soon.
"In fairness, we have not asked him to be on our show," said Hayden, who is a prominent conservative and former Fox 31 Denver TV reporter.
Bonniwell, who's the publisher of the Cherry Creek/Glendale Chronicle, once called Gardner a "total [whore] for the Chamber of Commerce," and a "Mitch McConnell stooge."
Asked if they planned to invite Gardner on the show, Hayden said, "It's kind of like the jailhouse interview you do with someone you know is guilty, just so you can say you had the interview. What purpose does it serve?
"We know we disagree. We'll ask him a question. He'll give us an answer. We won't like the answer. He'll give us another answer. Do you know what I mean? It doesn't go anywhere."
Boyles, who's been in Denver media for decades, did not return an email seeking to find out if he wants to talk to Gardner, but it's clear Boyles doesn't think much of Gardner, saying recently on air:
BOYLES: "Don't kid yourself about the GOP in the State of Colorado. It's a clown show. And Cory Gardner's not gonna get reelected, because it's on him."