Billboard on wheels asks Gardner to protect public lands
The Hispanic Access Foundation commissioned a billboard truck to drive around Denver Wednesday to send U.S. Sen. Cory Gardner (R-CO) a message: protect our public lands.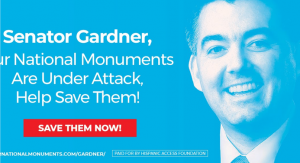 From HAF: "Colorado's public lands contain cultural heritage and history important to preserve for future generations of Latinos and all Americans. Hispanic Access Foundation wants to ensure Sen. Gardner represents our interests in Washington D.C. rather than siding with oil and gas and special interests."
The truck parked outside the Senator's office before making rounds near popular Downtown locations including the Denver Art Museum the 16th Street Mall.
Don't work for Buck or Coffman?
Politico has named Colorado Republican Congressmen Ken Buck and Mike Coffman as two of the "worst" people to work for in the U.S. Congress.
The publication based its assessment on the high rate of turnover in their offices, with Buck coming in fifth and Coffman tenth among all members of the U.S. House fo Representatives.
"It's no secret that Rep. Coffman is one of the hardest working members on the Hill. Mike has high standards — expects a lot," Coffman spokesman Daniel Bucheli told Politico. "He has one of the hardest working staffs in the Capitol and back home, and it shows from the results he produces for the district."
Adams County Republican leader 'likes' fake news 
Anil Mathai, the Chair of the Adams County Republican Party, recently liked a fake news item on Facebook claiming that the "CDC admits 98 million Americans were given cancer virus via the polio shot."
The information in the Facebook post, from "Vaccines.news," was found to be false by Snopes, the fact-checking organization.
Snopes: First of all, the CDC never "admitted" that anyone ever contracted cancer from a polio vaccination. What the CDC actually said was:

Sometime around 1960, Simian Virus 40 (SV40) was discovered in the injected form of the polio vaccine (IPV).
The SV40 virus has been found in certain types of cancer in humans.
Between 1955 and 1963, when some portion of the IPV was contaminated with SV40, roughly 98 million Americans received at least one dose of polio vaccine.
Emma Gonzalez tweaks talk radio host and caller — but it's not her message, it's just her
On Monday morning's Richard Randall Show (KVOR, 740am), during a discussion about the March for Our Lives protests against gun violence, the host and a caller to the show opined on Marjorie Stoneman Douglas High School student Emma Gonzalez, whose address to the Washington D.C. crowd included an emotional tribute to her 17 murdered classmates, followed by six minutes and 20 seconds of silence commemorating the timespan of the tragedy.
The dialogue between the host and the caller included all of the following characterizations of Ms. Gonzalez and fellow activists:
"Young girl", "skinhead", "butch-looking lesbian", "trifecta [of media bait]", wearing a Cuban flag on her jacket ("almost as ugly, almost as offensive as a swastika"; more offensive than the Confederate flag), "squeezing [fake] tears out of her eyes", reminiscent of the Hitler Youth, brainwashed, pawns of the media and vagina hat-wearing Sharia law adult organizers, undeserving of credibility, mercenaries of George Soros.
Randall contributed to the caller's tirade before eventually acknowledging that attacking the messenger might be counter-productive to making a valid rebuttal to Ms. Gonzalez's message.
But listeners to KVOR last Monday morning got Richard Randall's message, loud and clear. Randall also invites candidates for elected office on his show. They might do well to consider whom they allow to help promote their messages.
Listen to the segment from KVOR's morning show  below:
Douglas County GOP assembly members unimpressed with Senator Gardner
According to attendees, Colorado Senator Cory Gardner was met with a frosty reception at the Douglas County assembly last Saturday. He apparently refused to respond when asked why he "[says] one thing but [does] another," before being "ushered out" of the auditorium. The conservative stronghold should be friendly territory for Gardner, considering that as head of the National Republican Senatorial Committee, he's charged with preserving the GOP's thin majority in the United States Senate. Local delegates, however, were dismissive, as their additional comments indicate.