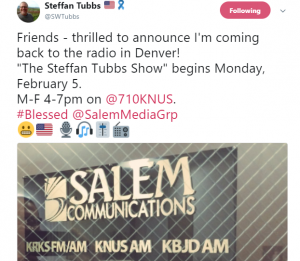 If you're one of the three people who follow the Denver radio scene closely, you know that longtime KOA morning host Steffan Tubbs was fired last year, after his arrest on domestic-violence charges, which were later dismissed.
Now Tubbs is jumping over to conservative KNUS radio, joining a lineup of ultra-conservative local yappers. The local part I like; the monolithic conservatism is ugly and getting uglier in the age of Trump.
So I was glad to see that KNUS was adding Tubbs, who I thought was less of a predictable conservative than other KNUS hosts. Tubbs often asked decent questions of his guests on his KOA show, and I admired his book about an African-American serviceman.
Once when no other reporter would ask the question, Tubbs asked U.S. Rep. Mike Coffman (R-CO) about Coffman's comment that he didn't know if Obama was born in the U.S. and that Coffman didn't think Obama was an American "in his heart." Coffman told Tubbs that people were making too big a deal about it and he was over it.
But it looks like Tubbs is a moderate no longer, if he ever was one. Judging from a KNUS guest appearance Jan. 19, it looks like his departure from KOA has sent his right wing flapping.
"If you're just tuning in, and you wonder who I am, I consider myself very, very middle-of-the-road. I consider myself to be a reformed Democrat. When I was younger, let the government help, and all this sort of thing.

"And as I've become more mature, and I hope a little fiscally more responsible, you know where I am voting now. And so, just to be clear, as my old friend at KOA Mike Rosen said, let me know where you stand before you sit, I think Hillary Clinton right now should be in jail, I voted for President Trump, I wish the President didn't tweet as much, but I think we need more common sense." [BigMedia emphasis]
Wishing Hillary were locked up. Voting for Trump. Moderate?
I tried repeatedly to reach Tubbs to discuss this, but alas he did not respond to me. In response to my first attempt to contact him last week, he asked for my email address. But radio silence ever since. Oh well.
"I'm not trying to big time, but I am a text away from Senator Cory Gardner," said Tubbs on air, illustrating his conservative connections, while it's "very, very tough" for him to reach U.S. Sen. Michael Bennet (D-CO), whom he did say was a "very decent man."
Tubbs will be taking the KNUS slot currently occupied by social-conservative lawyer Dan Caplis, who announced Jan. 18 that he was going to take "a little sabbatical" from the regular radio show to spend more time with his family and write the definitive book on the "Colorado disaster" with marijuana. He said he plans to return to radio work after his daughter goes to college.
I'm hoping Tubbs won't turn into another Caplis on the ideology scale. But it's not looking good.
Listen to Steffan Tubbs say he's a moderate despite voting for Trump and saying Clinton should be in jail.