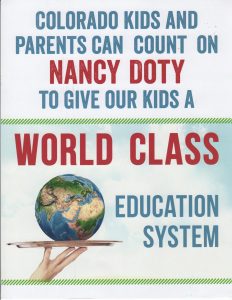 I've been trying to convince journalists to find out why state senate candidate Nancy Doty thinks Sarah Palin gave a "Spot on" speech in Denver, in which the former Alaska governor raved about Donald Trump. (Here's a funny video to emphasize the point.)
From where I sit as a progressive, the world is pretty backwards if you think Palin is "spot on."
And it turns out, judging from the recent Doty advertisement on your right, that's exactly how Doty sees the Earth–transposed, ass backwards, if you will.
So, does the inverted worldview on Doty's mailer have anything to do with her enthusiasm about Palin and Trump?
Or is Doty's backwards Earth related to the ability of kids to "count on NANCY DOTY" for a "WORLD CLASS" education?
I doubt it, to be honest, but she's yet to be questioned about Palin, so we don't know. And if there's one thing you learn as a journalist, it's that you never know what someone will say until you ask them.
Doty's Arapaho County race against State Rep. Daniel Kagan is key, along with an Arvada state senate contest, in the GOP's struggle to maintain their one-seat majority in the senate chamber and thereby block Democrats' hopes of controlling state government next year.
Original Publication