The Arapahoe County Republican Party has apparently deleted a Facebook post by fellow Republican Elliot Fladen because it contained the term "Trumpkin."
Trumpkin!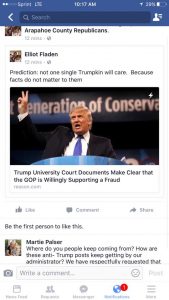 Fladen commented on an article titled, "Trump University Court Documents Make Clear that GOP Is Willingly Supporting a Fraud."
"Prediction: Not a single Trumpkin will care," Fladen commented on the Arapahoe County GOP Facebook page, "Because facts do not matter to them." Then the post was gone, he wrote later.
After Fladen objected to the deletion of his post, Micah Marmaro, who described himself as a "#nevertrumper and a moderator" of the Arapahoe GOP Facebook page, wrote: "You are calling people names. Perfectly valid reason for deletion according to the forum rules. Try posting it without Trumpkin…The idea of moderation is to facilitate productive discussion. Trumpkins is name calling and stops productive discussion cold…."
One wonders if Trump would agree, but  Fladen replied, "You keep assuming Trumpkins is a pejorative. In fact, it is like saying Trump peeps. In other words, not an insult. And much less negative (even assuming negative at all) than other stuff that others repeatedly say."
In fact, a quick search of the Arapahoe County GOP Facebook page revealed it to be civil in comparison to other political Facebook sites, like the Pueblo County Republican Party page.
But I did find a commenter calling Hillary a "Crazy eyed bat!!" I guess I'd rather be called that than a Trumpkin, but that's because anything with the name "Trump" embedded in it is insulting at this point. I call people "Trump" when I'm made at them.
You Trump!
But I agree with Fladen that Trump supporters wouldn't mind being called "Trumpkins."